Local Time
Timezone:

America/New_York

Date: Dec 05 2023
Time:

08:30 - 09:15

Date
Dec 05 2023
Time
08:30 AM - 09:15 AM
Tuesday Talks Virtual Round Table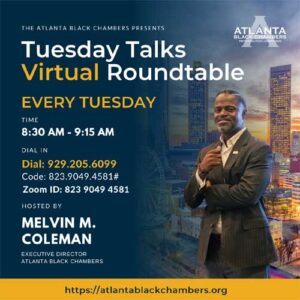 Tuesday Talks Virtual Roundtable is or weekly ZOOM conference hosted by the ABC Executive Director, Melvin Coleman.
Featuring:
Weekly Special Guests sharing key information about current events
Weekly Chamber member spotlights, a member of the chamber shares their
expertise and promotes their business.
Tuesday Talks is informative!
Tuesday Talks is the weekly call that keeps you in the know.
https://us02web.zoom.us/j/82390494581